Downtown Presbyterian
427 Church Street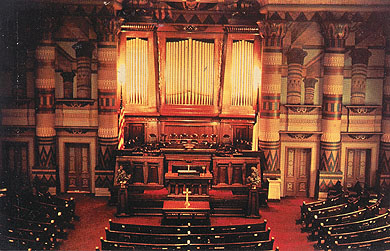 Rare example of Egyptian Revival architecture:
This church was one of many buildings used as hospitals during the Union occupation of the city during the Civil War. It was designated Hospital No. 8 and housed 206 beds.
Originally the First Presbyterian Church, this building (1851) is one of the few examples of Egyptian Revival architecture in the entire country.
The building was designed by William Strickland, a nationally prominent architect, who had come to Nashville to build the state capitol. The sanctuary contains Egyptian decorative themes in wall paintings, woodwork, and the stained glass windows.
From Battle of Nashville/Civil War Sites
Next