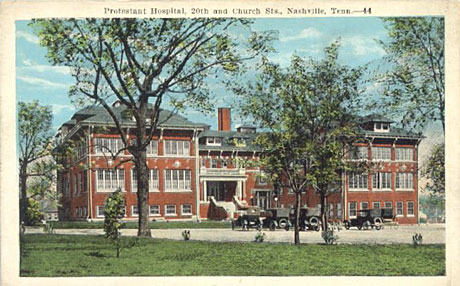 20th & Church Street
On December 12, 1918, as a result of a devastating flu epidemic and the need for more hospital beds in Nashville, five men incorporated Protestant Hospital. The first patient was newborn Margaret Anita Kilby Lewis, daughter of Gladys Kilby, and she arrived on March 20, 1919, two days before the official opening.
The ten-and-a-half acre plot consisted of two adjoining city blocks, bounded by four city streets: Church Street on the south, 20th Ave. on the east, 21st Ave. on the west, and Patterson Street on the north. There were two buildings--one became the hospital and one became the dormitory for the School of Nursing. Protestant Hospital began with 100 beds, and the construction of the East Building in 1924 increased capacity to 210 beds and 18 bassinets. Because of the Depression and a generally weak financial condition, the hospital experienced no more growth.
The hospital transferred ownership to the Tennessee Baptist Convention in April of 1948, and its name was changed to The Mid-State Baptist Hospital, Inc.