Hermitage Club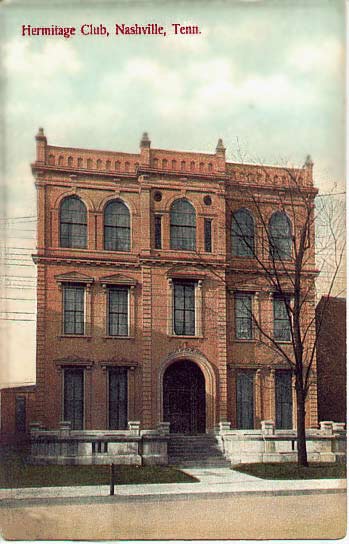 From Jim: I found some info on "the Hermitage Club" house though I still don't know what the Hermitage Club was. Seems this home was located on High Street which is now Sixth Ave. Its location was where the Capitol Blvd. Building now stands..(Wherever that is located)? It was built in 1858 by Major George Cunningham who fought for the Confederacy. It was "confiscated" by the Union Army when Nashville was taken by the Union and used at times by Sherman, Roscrans, Thomas and Buell during the war. Cunningham sold the house after the war. It was the Hermitage Club until 1935.
Picture courtesy Jim Stephens
From George Zepp, Tennessean...
"The Hermitage Club building was first a downtown residence at 223 Sixth Ave. N., then called High Street. This 1901 view shows it had the same iron fence as when it was headquarters for Union generals in the Civil War. The club added a third floor. "