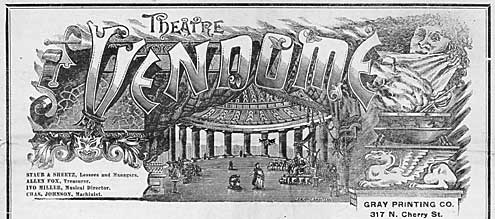 Vendome Theatre
"Facing Capitol Blvd on Church Street was probably the classiest of the old Nashville theaters, Loew's Vendome. You walked in on marble and the entire interior motif, curtains, carpets, etc, was in some shade of deep red. They apparently had the exclusive contract for all MGM product because that's where you saw all the great musicals to come out of that studio. Their balcony extended down either side into 3 or 4 small box seat areas with about 4 - 6 seats each. Deep red drapes covered the entrances to those areas." Lou Vodopya -nashlinks.com
The Vendome would burn in 1902. An interesting sidelight to the fire is that manager Billy Sheetz then attempted to lease the Masonic (by then under Mrs. Boyle's management) for the attractions he had booked for the Vendome and was refused. The Auditorium then offered to let the attractions play there but only under their own management. The next few Sheetz-booked shows took the position that their contract with Sheetz was voided when his theater burned; some then played the Masonic and others the Auditorium on their own terms, cutting Sheetz out of the picture! The Vendome was to reopen before the end of 1902 with a sure-fire attraction: Al G. Field's Minstrels.
In 1920 the Vendome became Loew's Vendome (or as time went by simply "Loew's") and adopted a moving picture and vaudeville policy. Several years later Loew's entered into an agreement with movie king Tony Sudekum whereby his Princess Theater down the street became the only "vaude" house in town and Loew's got the pick of the first run movies.

Loew's burned again in 1967 and was not rebuilt. - Dave Price, Nashville Historic Newsletter
These images are from an advertiser that was handed out at the theatre.
It dates to February 1900.